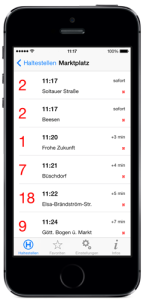 Welcome to TramChecker for iPhone and iPod Touch.
Don't miss a bus or tram – using TramChecker.
TramChecker shows latest time table informations for tram and bus stations in Halle (Saale), Germany. You can choose a stop and check the next Tram in real time. It checks the information system of the local Public Transportation Provider also known from an available Desktop PC Widget.
All you have to do is to choose you favorite Strop, check next times and and you won't be late at the stop to catch your tram in time. TramChecker is something like a  Stop Ionformation Display just for your pocket.
TramChecker shows you a timetable with latest informations for a busses and trams. It does not contain any ads and that makes it fast and easy. Start the App quickly, check the times for your stop and you're done. Stops that you use very often you can add the the Favorite system of TramChecker to make them saved for you persistently. So you've your favorite stops in fast access. TramChecker – available in the AppStore.
Usage Instructions
TramChecker shows live time table data of the local public transport service provider of the city of Halle (Saale) in Germany. In the tab "Stops" any available station can be selected. The App asks the server and shows the actual time tables determined by the system with a time difference of now. You can detect how much time you have until the next tram or the next bus goes. In addition, the line number, line target, "Low level floor" information (Red N), Paratransit service and – if available – it shows the original schedule time which can be different to the actual time. Available stations are transmitted by the system and may vary from time of the day and time schedule (please note when a station is added to the Favorites).
Frequently used stops can be addad to the "Favorites" tab for quick access. The "Edit" menu allows prefered sorting of favorite stops.
There is in the "Settings" tab, the first option is to enable caching of the stop list ("Cache stops"). Here, a local copy of all stops is kept locally on device for later use. This reduces network traffic when starting or reloading the App, but carries the risk that the indicated cached stop list differs from the actual list. Using the "Reload" button in the "Stops" View can enforce a reloading of the stop list in any case.
Disclaimer
There is no guarantee for completeness and accuracy of the data displayed. The data is offered by the information system of the local public transport service. The author of the App is not responsible to the displayed data and availability of the service. The data correspond to the specifications of the available informations from the public transport service providers home desktop widget.